300+ Live Classified Sites
PPC via Targeted Classified Syndication
We syndicate your inventory to our network of 300+ classified sites, capture local buyers at the end of the buying funnel, track all clicks and conversions, and report Google Analytics results on a monthly basis. You only pay for the actual traffic you receive. According to Google Analytics reporting, we are the highest converting vendor in the Automotive Industry, and have been for the past three years. Based on your needs as a dealer, we will include your inventory in sites that are in alignment with your sales goals.

Over the last several years, classified car listing sites have become an expensive source of shared leads for car dealers. The cost to list inventory, and the lead fees associated have many dealers reassessing their ad budgets and strategic considerations. To make matters worse, these large, publicly-traded classifieds continue to raise their prices regardless of the deteriorating value of their product and customer service! Keeping track of inventory tends to be confusing, not only for the dealer, but the consumer as well who often times flirt with vehicles that are no longer available. These large sites are full of bad reviews, one after the other, and dealers continue to pay for questionable leads, as consumers continue to grow frustrated.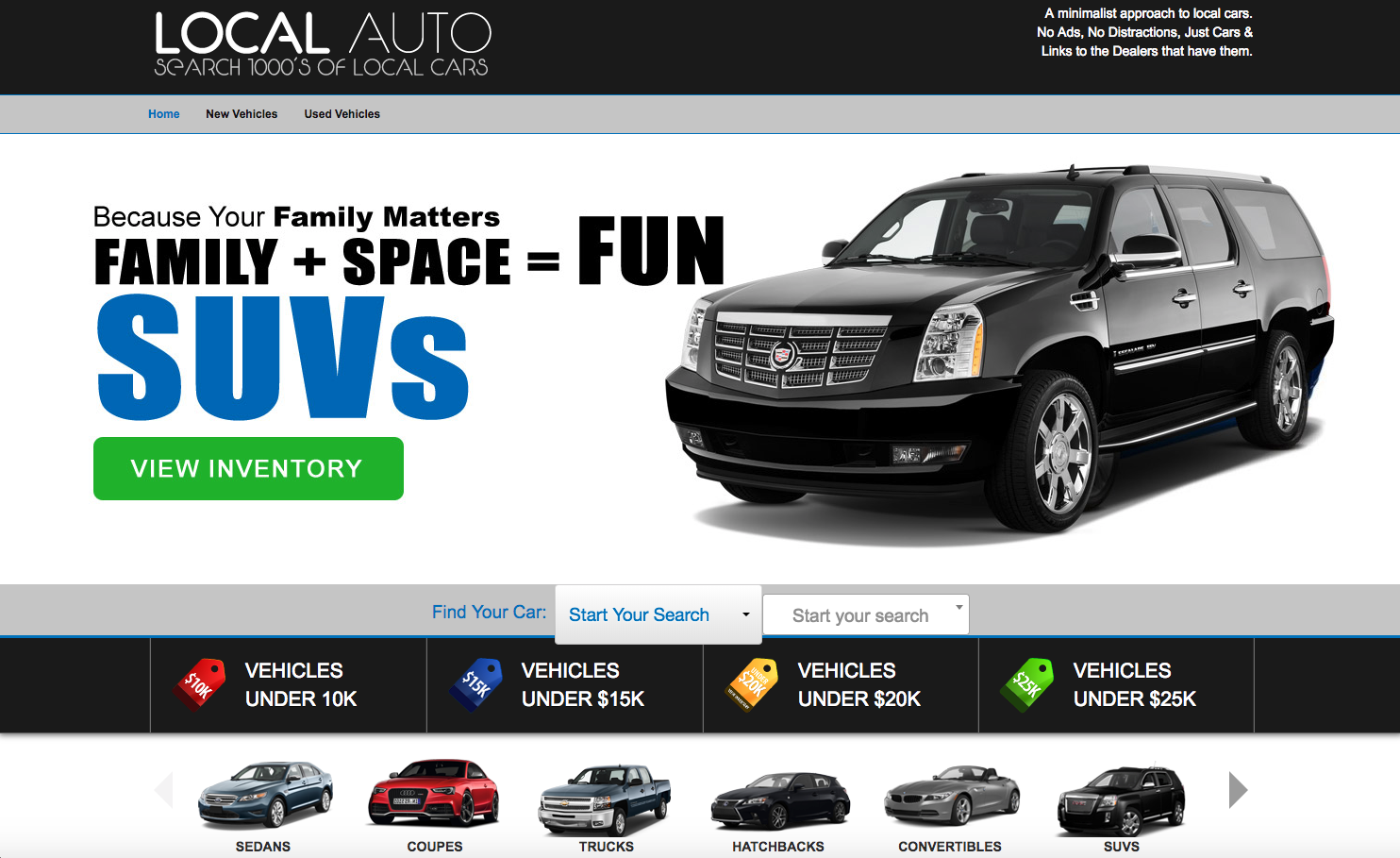 We simply charge car dealers based on an affordable PPC model. The dealer determines their budget, and can easily calculate their ROI based on the conversion metrics provided by "DealerAnalytics." As an added value, all dealers syndicating their inventory through the Car Dealer PPC network receive free analytic assessments from "Dealer Analytics." They are a 3rd party firm, consisting of Google Certified Account Managers that work with dealers to determine the effectiveness of their digital ad budget from a completely unbiased source. In the long run, time and money is saved, visibility is increased, and the classified sites attract buyers based on the keywords and phrases they type into search engines. There are a variety of different kinds of classified sites within the Car Dealer PPC network that target specific markets of buyers such as subprime buyers, cash for car customers, new and used car customers, or customers looking for used cars at a certain price point.
Increase Online Visibility
Car listing syndication provides dealers with a single location from which to manage, maintain, and distribute their inventory posts to multiple listing sites. This results in more posts for more vehicles on a wider variety of listing sites, significantly improving dealer advertising and marketing efforts not to mention conversions. Increased exposure translates into more opportunities to sell cars and expand market reach. Car listing syndication also help dealers update posts more regularly, ensuring that the newest inventory is always available to consumers and that once a vehicle is sold all associated listings are removed from classified sites. Providing classified listing sites with the most up-to-date inventory information will help improve consumer satisfaction, drive qualified traffic to your dealer's site, and result in greater profits.
Access to Thousands of Buyers
Our classified network offers dealers access to thousands of prospective buyers, making it a superior option at a low cost per click. The network of sites help increase market reach and create more first generation, privately owned leads. Dealers attempting to increase online traffic and drive sales can utilize our car listing syndication to reach the greatest number of potential customers in as little time as possible. Overall, car syndication is one of the most valuable marketing tools available.
Maintain Updated Inventory
Car listing syndication can be used to promote new, used, and certified cars. Through car listing syndication, dealers can also maintain updated inventory listings across the web, ensuring the most up-to-date vehicle information is available to users.
Syndicating inventory across our network helps place content in front of new audiences, builds brand recognition, and increases site traffic. Search engines do not penalize sites for using syndicated content, rather this content helps dealer marketing efforts by creating more search engine approved inbound links, improving market reach, and increasing search engine visibility. Whether you're looking to generate more traffic for your site, increase brand visibility, or communicate with prospective customers more effectively, car syndication is a great way to grow and develop your dealer's SEO. Overall, car syndication drives exposure across numerous online platforms, and generates new traffic in a cost effective and highly efficient manner.
NO FORMS only "Link Menus"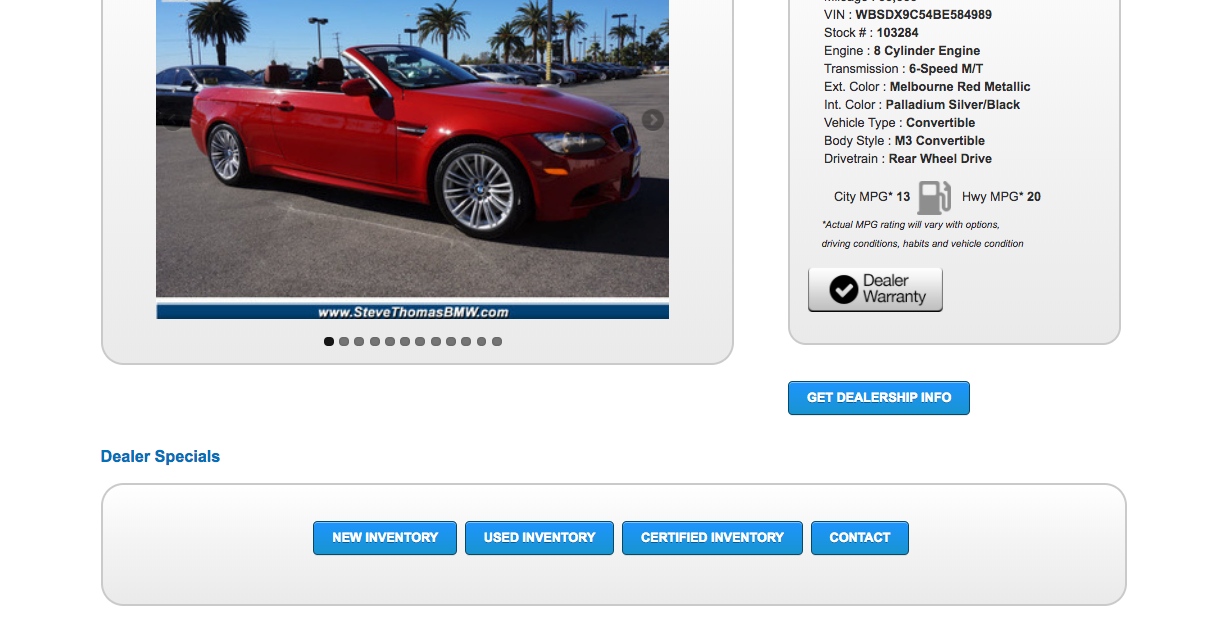 Most classified sites require the user to fill out a form if they would like to contact the dealer. We are the only vendor to include custom "Link Menus" instead of forms. Each VDP on our classified sites offer multiple button options for users to contact, which double as backlinks to your preferred website location(s). This can include the specific vehicle information page, "contact us", or even a "schedule a test drive" option. Backlinks are what help your website/dealership rise in the organics rankings on a SERP, build your website quality score, decrease the cost of your ppc, and increase your visibility, traffic and overall sales. You will be utilizing our entire classified network and enjoying the benefits of thousands of SEO-strong backlinks at no extra cost. Also the traffic that we send to your main website, ultimately converts to 1st generation, privately owned leads. Our backlinks are another value to syndicating your inventory with our classified network.